What Immigration Help?
(and how much)
Citizenship/Naturalization
[$200] I check that it is really safe for you to apply to become a US citizen, help with the forms, include an attorney form so I can be with you through the process, and give you a "mock interview" close to the time to make sure you are ready. I recently naturalized, so I know first-hand about the experience.
Whatever you decide, please consult with a lawyer before applying.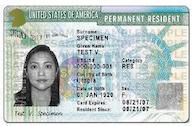 Green Cards
[$450] For adjustment or a fiance visa or I-751 lifting of conditions, we prepare a full packet with good evidence giving the service exactly what they need from you. And guide you through a stressful time. For consular processing we go step by step. And I will be with you through the stress of the process, as the attorney of record. Of course "no extra fee for an RFE."

Here is our Marriage Adjustment of Status checklist
Immigration Benefits
Many issues can be resolved in a single $50 consultation.
Otherwise, for smaller tasks - I-130 applications, I-131 re-entry permits, and more the fee is $150. For complicated work, I use the hourly rate with an agreed cap. No large fixed fees.
DACA/DAPA
[$100 renewal/$150 initial] One benefit of also working in a nonprofit is that I do many DACA applications. We get it right, however long it takes to prepare a complete packet.

I also welcome "health check" consultations with undocumented people to make sure you stay safe
VAWA/U Visa
[$450] If I can help, I will. Victims of crime don't need the added stress of an immigration crisis. Because these cases take a long time, I only accept a few at any time.

Business Immigration
I came to the US through the business route. And I understand that you often need more advice than you can get from an emmployer's attorney.
Also entrepreneurs (and students with dreams) find it very useful to discuss their plans and get a reality check about their concerns. Often this can take just a single consultation.
Check to see if your country has an investment or trade treaty with the US.